Locksmith Journal Article
The Locksmith Journal recently published an article looking at how Phoenix Safe Company has evolved over the last few years. The article, titled  » Phoenix create new markets whilst still future-proofing customer interests » was written by Editor Stephanie Wright. She visited our Liverpool office to chat with our Managing Director Daniel Thompson.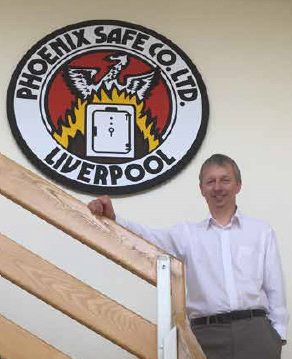 Daniel explained how the business has evolved over recent years; developing our product offering to cater for existing and new markets, future proofing marketing interests to protect our customer's interests and our passion for promoting the highest standard of products to the market.

A quote from the article:
Daniel commented: "Phoenix Safe Company has built its reputation on its commitment to be able to supply a range of products which create the right solution for customers. Producing products which have been created out of a technically stable and trustworthy design has enabled the business to progress and develop new products, creating new markets for us.
Quality and the standard of which our safes perform has always been at the heart of our business and in order to compete in today's market we know we have to ensure that our products are tested and certified to the highest accredited standards available in the marketplace".
Click the link to view the whole article:
https://www.phoenixsafe.fr/wp-content/uploads/2016/10/LS-JUL-AUG16-Phoenix.pdf